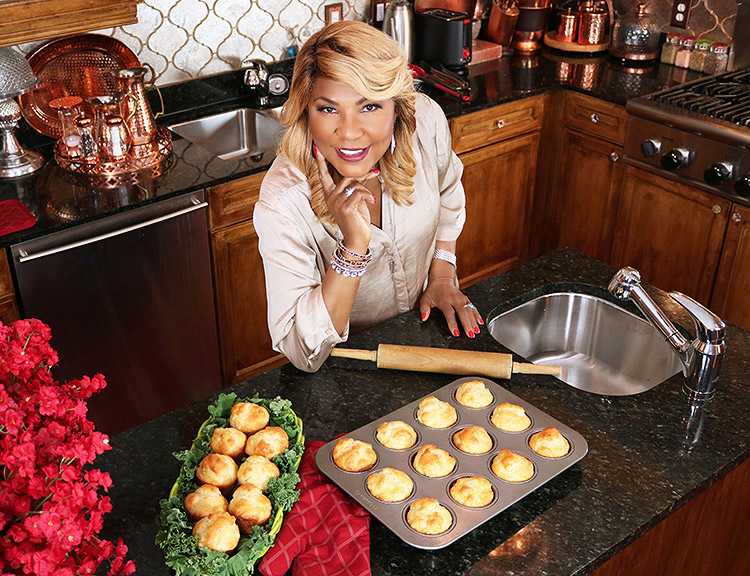 Ms. E has always been considered a great cook. After all, she learned to cook from the best, her mom. One of the first things that she can remember her mom making in the kitchen on an old wood stove is biscuits that were so good they melted in your mouth. As a child, Evelyn would remember how those biscuits would fill the house with savory aroma and give the sense of hominess and comfort that consumed the entire house. Cooking without measuring anything, Evelyn's mom had perfected a delicious recipe that she did not know that one day would be famous. Now known as BUFFINS, these biscuits still pack a rich and fulfilling taste that now Ms. E. shares with the world. Known for her funny sayings, Ms. E. would say that "it is a very poor frog who does not praise his own pond." So she does not hesitate to say that these buffins are better than good. They are great hot or not.  Ms. E. is elated to share with the world her very own family recipe for her buffins.
Buffins have been enjoyed by her family now three generations deep. Her children and grandchildren cannot seem to ever have enough of this delightful treat. Soon to start a fourth generation of Braxtons to enjoy her buffins, Ms. E can hardly wait for the new addition of her great-grandson to the Braxton family who will continue the legacy and be privy to the best biscuit on the market made by his very own Mom-Mom. The love of family is the main ingredient to the many successes of Ms. E. She considers it a blessing and delight to be able to cook for her family as they continue their legacy of love in their journey in life. Ms. E, who is truly the wisdom key to her family and to the world often will say that the serving of good food is fertile ground for absorbing the wisdom that she offers while nourishing others.
Ms. E's buffins are a hit sensational gift to the table for breakfast, lunch, dinner and any meal in between. Try one today. You will be begging for more.